Sainik School Kalikiri: Fostering Excellence and Leadership
Sainik School Kalikiri: Nurturing Excellence and Leadership. Experience holistic education with a focus on academics, physical fitness, and character development. Prepare for a successful career in the Armed Forces or beyond. Discover the pride of Sainik School Kalikiri.
SCHOOL SCHOOLS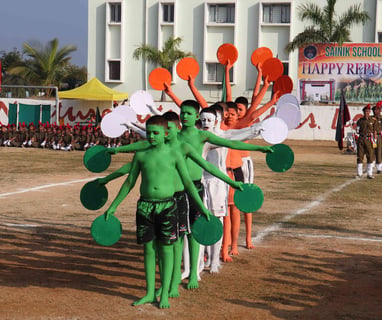 Education is the foundation on which a nation's future is built, and institutions like Sainik School Kalikiri play a pivotal role in shaping young minds into competent and responsible leaders. Nestled in the serene surroundings of Kalikiri, Andhra Pradesh, Sainik School Kalikiri stands as a beacon of excellence, providing a holistic education that combines academic rigor, physical fitness, and character development.
A Glance at History: Sainik School Kalikiri was established on 18th June 2011, with the primary objective of preparing young boys for a career in the Indian Armed Forces. The school was the brainchild of the Ministry of Defense, Government of India, and was envisioned as a prominent institution to impart quality education with a military ethos.
The Mission and Vision: At the heart of Sainik School Kalikiri's mission is the commitment to nurture and groom cadets into well-rounded individuals, equipping them with the knowledge, skills, and values needed to succeed in their chosen paths. The school envisions producing not only competent officers for the Armed Forces but also responsible citizens who contribute positively to society.
Academics: Academic excellence is one of the cornerstones of Sainik School Kalikiri's educational philosophy. The school follows the Central Board of Secondary Education (CBSE) curriculum, providing a strong academic foundation that prepares cadets for a wide range of career options. Highly qualified and dedicated faculty members strive to foster a love for learning and critical thinking among the students.
Physical Fitness and Sports: Recognizing the importance of physical fitness in overall development, Sainik School Kalikiri lays significant emphasis on sports and physical activities. The school offers a range of sports facilities, including football, basketball, volleyball, athletics, and more. Regular physical training and sports competitions not only promote a healthy lifestyle but also instill values like teamwork, discipline, and determination.
Military Training: As a Sainik School, Kalikiri prides itself on its military training program. The cadets undergo rigorous training that includes drill, parade, and other military exercises. This training not only instills discipline but also nurtures leadership skills and a sense of responsibility, preparing them for future roles in the Armed Forces or other fields.
Character Development: In addition to academic and physical development, Sainik School Kalikiri places a strong emphasis on character building. The school aims to foster qualities like integrity, honesty, and compassion among its cadets. Ethical values are woven into the fabric of daily life at the school, creating an environment that encourages empathy and mutual respect.
Infrastructure: Sainik School Kalikiri boasts a modern and well-equipped campus, providing all the necessary amenities for a comfortable and conducive learning environment. Spacious classrooms, well-equipped laboratories, and recreational facilities contribute to an enriching experience for the cadets.
Inclusivity and Diversity: Sainik School Kalikiri welcomes students from diverse backgrounds and regions of the country. This inclusivity not only promotes national integration but also exposes cadets to different cultures and perspectives, fostering a spirit of unity and understanding.
Alumni Achievements: Though relatively young, Sainik School Kalikiri has already seen its alumni making strides in various fields. Many of its former cadets have excelled in the Armed Forces, academics, sports, and other professional spheres, making their alma mater proud.
Sainik School Kalikiri stands tall as a premier institution that instills values, knowledge, and skills in its cadets, nurturing them into leaders of tomorrow. With a robust academic curriculum, a focus on physical fitness, and a commitment to character development, the school prepares its students to excel in their chosen paths, contributing positively to society and the nation. As Sainik School Kalikiri continues to mold future leaders, it remains a shining example of the power of education in transforming lives and shaping a bright future for India.