Sainik School Korukonda: Nurturing Tomorrow's Leaders
Sainik School Korukonda: Nurturing tomorrow's leaders with excellence in academics, military training, and character development. Prepare for a successful career in the Armed Forces or beyond. Discover a nurturing environment for growth and discipline
SCHOOL SCHOOLS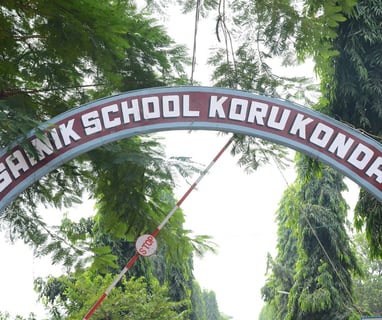 Education forms the bedrock of a nation's progress, and institutions like Sainik School Korukonda play a pivotal role in shaping young minds into future leaders. Established with a noble vision, Sainik School Korukonda stands as a symbol of excellence, commitment, and discipline, creating a nurturing environment for its cadets to grow academically, physically, and emotionally.
A Glorious History: Sainik School Korukonda, situated in the scenic Vizianagaram district of Andhra Pradesh, India, was founded on January 18, 1962. It was the second Sainik School to be established in the country after Sainik School Satara. The institution was born out of the vision of V.K. Krishna Menon, the then Defense Minister of India, who believed that the country needed to produce more disciplined and capable officers for its Armed Forces.
Mission and Vision: The school's mission is to prepare young boys for entry into the National Defense Academy (NDA) and other branches of the Indian Armed Forces, as well as to provide a strong foundation for those pursuing other career paths. The vision of the school is to inculcate the values of integrity, honesty, perseverance, and selflessness among its cadets.
Academics: Sainik School Korukonda prides itself on its rigorous academic curriculum. The school is affiliated with the Central Board of Secondary Education (CBSE), which ensures that the cadets receive a high-quality education on par with other leading educational institutions in the country. The faculty comprises dedicated teachers who provide personalized attention to each student, nurturing their intellectual curiosity and encouraging them to excel academically.
Physical Fitness and Sports: Physical fitness and sports are given utmost importance at Sainik School Korukonda. The school believes that a strong body fosters a strong mind. Cadets are actively involved in various sports activities like football, basketball, hockey, athletics, and more. Regular physical training and sports competitions not only promote a healthy lifestyle but also instill qualities like teamwork, leadership, and resilience.
Military Training: The hallmark of Sainik School Korukonda is its focus on military training. The cadets undergo rigorous training to develop discipline, time management, and a sense of responsibility. The school maintains a structured routine that includes morning drills, parades, and other military exercises, preparing the students for a future in the Armed Forces.
Character Development: Character development is an integral aspect of the education imparted at Sainik School Korukonda. The institution places great emphasis on instilling moral values and a sense of duty towards the nation. The cadets are taught to uphold the ideals of integrity, honesty, and respect, creating a culture of camaraderie and mutual support.
Infrastructure: Sainik School Korukonda boasts modern infrastructure and amenities to provide a comfortable and conducive learning environment. The campus is equipped with state-of-the-art classrooms, laboratories, sports facilities, and residential quarters for students and staff.
Inclusivity and Diversity: Sainik School Korukonda welcomes students from diverse backgrounds and regions of the country. This inclusivity not only fosters a sense of national unity but also promotes cultural exchange and understanding among the cadets.
Alumni Achievements: Over the years, Sainik School Korukonda has produced numerous distinguished alumni who have excelled in various fields, including the Armed Forces, politics, academia, business, and arts. Many of its alumni have risen to prominent positions in society and have contributed significantly to the nation's progress.
Sainik School Korukonda stands as a beacon of hope and opportunity, shaping the lives of young boys and instilling in them the values of discipline, patriotism, and leadership. The institution's unwavering commitment to excellence in academics, physical fitness, and character development has earned it a well-deserved reputation as one of India's premier educational institutions. As it continues to mold the leaders of tomorrow, Sainik School Korukonda remains a source of pride for the nation and a testament to the power of education in transforming lives.